Every year, a list of books rep­re­sent­ing the lit­er­ary her­itage of the 50 states, the Dis­trict of Colum­bia, Puer­to Rico and the U.S. Vir­gin Islands is dis­trib­uted by the Library of Congress's Cen­ter for the Book dur­ing the Nation­al Book Fes­ti­val. Each book is select­ed by a local Cen­ter for the Book or state library and most are for chil­dren and young read­ers. Books may be writ­ten by authors from the state, take place in the state, or cel­e­brate the state's cul­ture and her­itage. For 2022, states picked both a Young Read­ers' Selec­tion and an Adult Read­ers' Selec­tion (below). View Geor­gia's pre­vi­ous selec­tions and those of the oth­er par­tic­i­pants here. Watch videos with pre­vi­ous years' hon­orees and oth­er events done in con­junc­tion with the Nation­al Book Fes­ti­val and affil­i­ate cen­ters for the book here.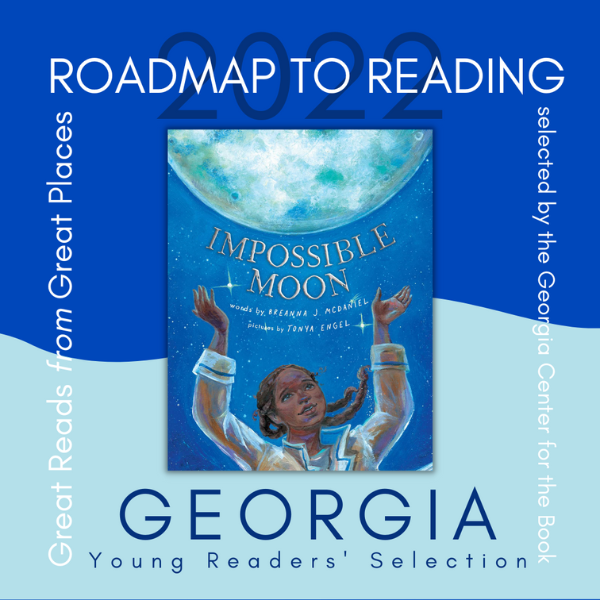 Impos­si­ble Moon by Bre­an­na J. McDaniel, Illus­tra­tions by Tonya Engel
Young Read­ers' Selec­tion
2022
In Impos­si­ble Moon, a young girl under­takes an impos­si­ble trip to the moon, makes friends with the stars, and brings back some­thing price­less in this gen­tle and lyri­cal­ly told pic­ture book about fam­i­ly, his­to­ry, and mem­o­ry. Grana used to tell the best sto­ries, and Mabel used to long to soar through the heav­ens. Nowa­days, Grana most­ly lies in bed and Mabel stays close to home. But one day, Grana asks, ​"If we can touch the moon, then what is impos­si­ble?" So Mabel decides to do just that, embark­ing on a jour­ney through the stars where The Sev­en Sis­tahs, The Big Dip­per, and oth­er con­stel­la­tions help her on her quest and teach her about African mythol­o­gy and African Amer­i­can his­to­ry. With the sup­port of her new com­pan­ions, Mabel reach­es for her biggest dream yet: to make her sick grand­ma well again.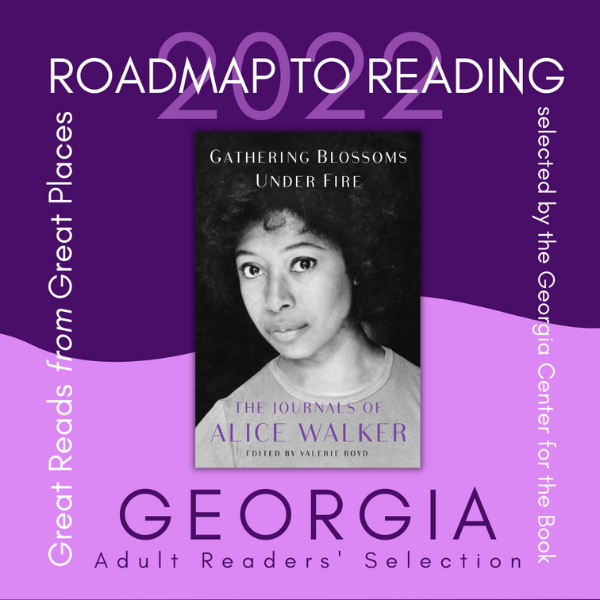 Gath­er­ing Blos­soms Under Fire: The Jour­nals of Alice Walk­er Edit­ed by Valerie Boyd
Adult Read­ers' Selec­tion
2022
From Nation­al Book Award and Pulitzer Prize – win­ning author Alice Walk­er and edit­ed by crit­ic and writer Valerie Boyd, comes an unprece­dent­ed com­pi­la­tion of Walker's fifty years of jour­nals draw­ing an inti­mate por­trait of her devel­op­ment over five decades as an artist, human rights and women's activist, and intel­lec­tu­al. For the first time, the edit­ed jour­nals of Alice Walk­er are gath­ered togeth­er to reflect the com­plex, pas­sion­ate, tal­ent­ed, and acclaimed Pulitzer Prize win­ner of The Col­or Pur­ple. She inti­mate­ly explores her thoughts and feel­ings as a woman, a writer, an African-Amer­i­can, a wife, a daugh­ter, a moth­er, a lover, a sis­ter, a friend, a cit­i­zen of the world. In an unvar­nished and sin­gu­lar voice, she explores an aston­ish­ing array of events: march­ing in Mis­sis­sip­pi with oth­er foot sol­diers of the Civ­il Rights Move­ment, led by Mar­tin Luther King, Jr.; her mar­riage to a Jew­ish lawyer, defy­ing laws that barred inter­ra­cial mar­riage in the 1960s South; an ear­ly mis­car­riage; writ­ing her first nov­el; the tri­als and tri­umphs of the Women's Move­ment; erot­ic encoun­ters and endur­ing rela­tion­ships; the ances­tral vis­its that led her to write The Col­or Pur­ple; win­ning the Pulitzer Prize; being admired and maligned, some­times in equal mea­sure, for her work and her activism; and bury­ing her moth­er. A pow­er­ful blend of Walker's per­son­al life with polit­i­cal events, this reveal­ing col­lec­tion offers rare insight into a lit­er­ary legend.