Ambassador Andrew Young & Paula Young Shelton share their new book - JUST LIKE JESSE OWENS
Little Shop of Stories & Georgia Center for the Book are excited and honored to host civil rights icon, Ambassador Andrew Young, and his daughter, Paula Young Shelton! They will be discussing their new book JUST LIKE JESSE OWENS - a powerful oral history about a special day in Andrew's childhood that changed him forever. This story of race relations in the 1930s South is soon to be a classic picture book!
Join us at Holy Trinity Episcopal Church on Wednesday, Sept 28th at 5pm!
Tickets
Due to limited seating, advanced registration is required. When registering for this event, please reserve a ticket for each member in your party.
When registering, you will have the option to pre-order a copy of "JUST LIKE JESSE OWENS" pre-signed by Paula Young Shelton and Ambassador Young! It can even be personalized!
We'll have a limited number of books for sale at the event, so we encourage you to preorder your copy! You can pick up your order at the event.
Please email Little Shop of Stories for questions - info@littleshopofstories.com
Venue
Holy Trinity Parish Episcopal Church
515 E Ponce de Leon Ave, Decatur, GA 30030
COVID Protocols
- Masks, worn over the nose and mouth, will be required inside the event space
- There will be no signing line nor meet and greet after the event
- Proof of vaccination or a negative COVID (taken no more than 72 hours before the event) will be required at the door.
About the Book
As a boy, Andrew Young learned a vital lesson from his parents when a local chapter of the Nazi party instigated racial unrest in their hometown of New Orleans in the 1930s. While Hitler's teachings promoted White supremacy, Andrew's father, told him that when dealing with the sickness of racism, "Don't get mad, get smart." To drive home this idea, Andrew Young Senior took his family to the local movie house to see a newsreel of track star Jesse Owens racing toward Olympic gold, showing the world that the best way to promote equality is to focus on the finish line.
The teaching of his parents, and Jesse Owens' example, would be the guiding principles that shaped Andrew's beliefs in nonviolence and built his foundation as a civil rights leader and advisor to Dr. Martin Luther King, Jr. The story is vividly recalled by Paula Young Shelton, Andrew's daughter.
About the Authors
Andrew Young is an American legend, who was a close friend and advisor of Martin Luther King, Jr. In 1972, when he was elected to Congress in Atlanta, Georgia, he was the first African American representative from the deep South since Reconstruction to hold such a position. Young was appointed the United States Ambassador to the United Nations, where he promoted human rights around the world. He continues to build global equality through the Andrew J. Young Foundation, which supports and promotes education, leadership, and human rights in the United States, Africa, and the Caribbean. He lives in Atlanta, GA.
Paula Young Shelton is an early childhood educator with nearly thirty years of experience teaching young children. She is the author of the acclaimed children's book Child of the Civil Rights Movement, illustrated by Raúl Colón, a Bank Street College of Education Best Children's Book of the Year. She is a graduate of Duke University and holds a master's degree in Education from Bank Street College. Paula is married with three sons, and lives in Washington DC.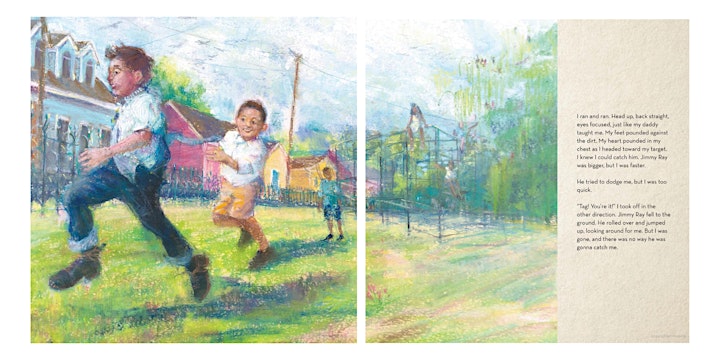 Author's Note
My father, Andrew Young, is a storyteller who uses stories to teach valuable lessons. He and I wanted to share this story about his experience with Jesse Owens, and agreed that the best way to do so was for me to write it as Daddy told it to me, taking some artistic license with the dialogue. I've heard this story throughout my life, along with my siblings, Andrea, Lisa, and Bo. I have recounted it based on conversations with Daddy, as well as research.
My father grew up in a diverse neighborhood in New Orleans when there was legal segregation throughout the South and racial inequity across America. In this story, I use the term "Colored" to describe people of African descent. This term reflects the speech of the 1930s. My grandfather, who we called Daddie Boo, often told my father and his brother, Walter, that when dealing with the sickness of racism, "Don't get mad, get smart."
Daddie Boo took my father to the local movie theater to see newsreels of Jesse Owens running in the 1936 Olympics to show how important it is to lead by example. Adolf Hitler was eager to host the Olympics in Germany to show the world that blond, blue-eyed Aryans were the superior race. When Jesse Owens won four gold medals, he proved Hitler wrong. At the same time, Jesse showed that working harder and smarter was better than fighting.
My father used Daddie Boo's lessons to guide his life. Even as he marched alongside Martin Luther King, Jr., to gain equal rights for Blacks and was beaten unconscious, he didn't get angry; instead, he continued to stand up for what was right. Sixty years after he saw Jesse Owens run, Daddy worked with the leadership of the city to bring the 1996 Centennial Olympic Games to Atlanta.
- Paula Young Shelton