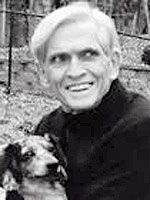 William Diehl
Georgia Connections
Notes of Interest
William Diehl, who began writing novels late in life, was the author of nine bestselling thrillers including "Sharky's Machine" (1978) and "Primal Fear," both made into movies, and was a long-time writer for the Atlanta Journal-Constitution. A posthumously completed novel, "Seven Ways to Die," was published in 2012.
William Diehl was born in 1924 in Jamaica, NY. He lied about his age yo join the Army Air Corps at 17 and served as a ball turret gunner on a B-24 bomber during World War II. He was the recipient of the distinguished Flying Cross, Purple Heart and the Air Medal with three Oak Leaf Cklusters for his heroism. After the war, he was graduated from the University of Missouri with a degree in creative writing and history and moved to Atlanta in 1949. He joined the staff of the Atlanta Journal-Constitution where he served as a writer, a photojournalist and an editor.
He was, however, in his '50s and unemployed when he learned from an agent on the telephone that his first novel, "Sharky's Machine" (1978) would be published. He had begun writing the novel, according to friends, while bored waiting to serve on a jury. The novel was turned into a movie directed by Burt Reynolds and filmed in Atlanta.
His other novels -- all with plotlines fueled by murder, greed, romance and various forms of violence -- included "Chameleon" (1981), "Hooligans" (1984), "The Horse" (1987), "27" (1990), "Primal Fear" (1992, made into a 1993 film starring Richard Gere), "Show of Evil" (1995), "Reign in Hell" (1997) and "Eureka" (2002). He died in 2006 at Emory University Hospital and had been working on another novel. That book, "Seven Ways to Die," was completed by a colleague, Ken Atchity, based on Diehl's rough draft and chapter outline and was published in early 2012.