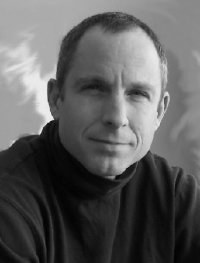 Walter Sorrells
Georgia Connections
Notes of Interest
Walter Sorrells is the prolific Edgar Award-winning author of 25 novels, several written under pseudonyms, including books for young adult readers. Many of his books are cleverly plotted mysteries, and he is a former member of the board of directors of the Mystery Writers of America and president of the Atlanta chapter of Sisters in Crime. His writing aliases include Ruth Birmingham and Lynn Abercrombie. In 2010, his novel for young readers "First Shot" was chosen for inclusion on the Georgia Center for the Book's first list of "25 Books All Young Georgians Should Read."
Walter Sorrells was born in 1962 in Nashville, Tennessee and now lives in Atlanta. He is a 1985 graduate of Haverford College near Philadelphia and began writing full-time in his mid-20s. "I haven't ever held anything that you'd call a real job," he writes. His first book, "Power of Attorney," a mystery, was published in 1992 when the author was only 30 years old.
The other adult books published under his real name include "Will to Murder" (1996), "Cry for Justice" (1996), "Proof of Intent" (2003), "Silent Room" (2006) and "Erratum" (2008). His Ruth Birmingham novels for adults feature an Atlanta-based private investigator named Sunny Childs. They are "Atlanta Graves" (1998), "Fulton County Blues" (1999), "Sweet Georgia" (2000), "Blue Plate Special" (2001), "Cold Trail" (2002) and "Feet of Clay" (2006). As Lynn Abercrombie, his books feature feisty African American investigator Mechelle Deakes: "The Body Box" (2005) and "Blind Fear" (2006).
His books for young adults include the novels "Fake ID" (2005), "Club Dread" (2007), "Hunted: Whiteout" (2009) and "First Shot" (2009). He also has written several series for young adult readers including the Pendragon series: "Pendragon Before the War," "Book Two of the Travelers" and "Book Three of the Travelers," all published in 2009. Also, the "Flight 29 Down" series, four books published in 2006 and 2007.
Sorrells won the prestigious Edgar Award for best original paperback for his second Sunny Childs novel, "Fulton County Blues," which was also nominated for a Shamus Award. "Fake ID" was named one of the "10 Best Mysteries of 2005" by Booklist. His writings have appeared in a number of national publications, and he has written scripts for National Public Radio programs including an award-winning docu-drama, "The Three Governors." He is an experienced martial artist and a part-time sword-smith who specializes in hand-forging swords with a Japanese flavor.
Further Reading