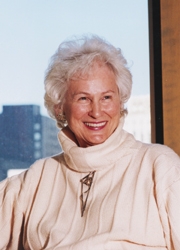 Virginia Spencer Carr
Georgia Connections
Atlanta, Fulton County, Professor and Chair, English Department, Georgia State University 1985-2003
Notes of Interest
Virginia Spencer Carr was a distinguished literary scholar who wrote the definitive biography of Georgia author Carson McCullers ("Lonely Hunter") and notable biographies of American writers John Dos Passos and Paul Bowles. In addition, she wrote books and essays examining the work of a number of other authors and chaired the English Department at Georgia State University in Atlanta during an important period of institutional growth. She was emerita distinguished professor at GSU since her retirement in 2003, after which she moved to Massachusetts. She died there on April 10, 2012..
Virginia Spencer Carr was born July 21, 1929, in West Palm Beach, Florida. She has said she knew from the age of 12 after taking a play-writing course with her mother and brother that she would someday be a writer. She also determined early that she would devote her life to teaching. She was educated in Florida's public schools. She attended Florida State University, where she was a charter member and trapeze artist in that schools University Flying Circus, before deciding to focus on English and journalism. She received a B.A. in English from Florida State, a M.A. from the University of North Carolina-Chapel Hill and a Ph.D. from Florida State. After completing her dissertation on the work of Carson McCullers, she moved to Columbus, Georgia, Mccullers' home town, to teach at (now) Columbus State University. She was a Fulbright professor to Poland 1980-1981. In 1985, she moved to Atlanta to chair the English Department at Georgia State, where she was named to the John B. and Elena Diaz Verson Amos Distinguished Chair of English Letters.
Her long research on McCullers' life and writings resulted in a biography, "The Lonely Hunter: A Life of Carson McCullers" (1975) with an introduction by Tennessee Williams. The book was re-published in 2003. The New York Times hailed the biography as "sensitive, balanced and auithoritative," and Newsweek called it "the definitive life ... full, sympathetic and frank." Her next book, "Dos Passos: A Life," a biography of John Dos Passos, appeared in 1984 and was re-published in 2004. Her other books include "Understanding Carson McCullers" (1990); "Women Writers Texts and Contexts" (1993); and "Paul Bowles: A Life" (2004), of which critic Fred Kaplan wrote, "How lucky Paul Bowles was to have such a devoted and talented biographer." Carr had been working on a biography of Eudora Welty and a personal memoir.