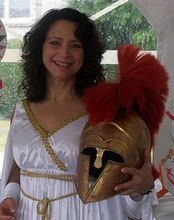 Vicky Alvear Shecter
Georgia Connections
Notes of Interest
Vicky Alvear Shecter has written two acclaimed books for young readers. She loves history, and her books have sought to make the subject, especially ancient history, more fun for children. She has lived in metro Atlanta for 24 years and now resides in DeKalb County. In 2010, her book "Alexander the Great Rocks the World" was chosen for inclusion on the Georgia Center for the Book's first list of "25 Books All Young Georgians Should Read."
She was born in 1961 in Hollywood, Florida, and grew up in Miami. She is a graduate of Florida State University. She was an award-winning advertising and marketing writer in Atlanta for many years before turning to writing for children. She is a docent at the Michael C. Carlos Museum at Emory University in Atlanta where she gives tours to schoolchildren. She also offers workshops for children and teachers on writing nonfiction and ancient history. She says she was always fascinated by ancient super-heroes, and that helped persuade her to make her first book about one of the best known, a figure she calls "the ancient world's first action-adventure hero."
Her debut book for young readers, "Alexander the Great Rocks the World," was published in 2006. It is a lively biography of a young man who was hardly a "typical teenager," and it is colorfully illustrated by Terry Naughton. It was a Junior Literary Guild Premier Selection and won an Honor List award for nonfiction from VOYA (Voice of Youth Advocates - Library Journal). Her second nonfiction book, "Cleopatra Rules! The Amazing Life of the Original Teen Queen," was published in 2010. Her first young adult novel is scheduled for publication in 2011.
Further Reading