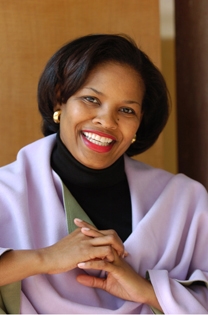 Shelia P. Moses
Georgia Connections
Notes of Interest
Shelia Moses is an award-winning author of books for young readers who also was the co-author of comedian and political activist Dick Gregory's autobiography in 2000. In 2010, her novel "Joseph" was chosen for inclusion on the Georgia Center for the Book's inaugural list of "25 Books All Young Georgians Should Read."
She was born the ninth of ten children in the small, rural northeastern North Carolina town of Rich Square in 1961. She received a BA in psychology from Shaw University, an historically black liberal arts institution in Raleigh, NC, and now makes her home in Atlanta.
Her first published book came when she co-authored Gregory's autobiography, "Callus on My Soul" in 2000. Since then she has written six books for young adult readers beginning with "The Legend of Buddy Bush" in 2004. That novel was set in Rich Square in the racially segregated era of the late 1940s and was a National Book Award finalist and a Coretta Scott King Honor Book. Her second book, "I Dred Scott" (2005), was a fictional slave narrative based on the life and legal precedent of the Antebellum era slave. Her other books include "The Return of Buddy Bush" (2006), a sequel to the earlier book; "The Baptism" (2007), "Sallie Gal and the Wall-a-Kee Man" (2007) and "Joseph" in 2008. A sequel to that last book, tentatively titled "Joseph's Grace," is scheduled for release in 2011.