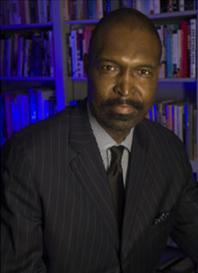 Rudolph P. Byrd
Georgia Connections
DeKalb County, Emory University faculty
Notes of Interest
Rudolph P. Byrd was the Goodrich C. White Professor of American Studies in the Graduate Institute of Liberal Arts and the Department of African American Studies at Emory University and one of America's most prominent black academic scholars. He wrote on the subject of American literature with special emphasis on African-American authors including Jean Toomer, James Weldon Johnson, Charles Johnson and Alice Walker. He played an instrumental role in Emory's acquisition of the papers of Georgia native Alice Walker in 2008-2009 and is the founding director of the James Weldon Johnson Institute at Emory.
He was the author and editor of eight books including "Jean Toomer's Years with Gurdjieff" (1990); "Essentials: The Aphorisms of Jean Toomer" (1992); "Generations in Black and White: Photographs of Carl Van Vechten from the James Weldon Johnson Memorial Collection" (1993); "I Call Myself an Artist: Writings By and About Charles Johnson" (1999); "Traps: African American Men on Gender and Sexuality" (co-editor, 2001); "Charles Johnson's Novels: Writing the American Palimpsest" (2005); "The Essential Writings of James Weldon Johnson" (2008); and "I Am Your Sister: Collected and Unpublished Writings by Audre Lorde" (co-editor, 2009). His essays and reviews appeared in many publications including the Oxford Companion to African American Literature, The Washington Post, the Los Angeles Times and the Atlanta Journal-Constitution.
He died in Atlanta on October 21, 2011.