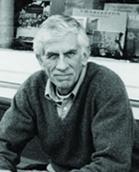 Paul Hemphill
Georgia Connections
Notes of Interest
Paul Hemphill, whose literary career ranged from journalism to novels to essays, died of cancer July 11, 2009 in Atlanta. His writing focused on the blue-collar South, and the subjects of his sharp prose included NASCAR racing, country music, college football and the region's long struggle for racial equality and justice. Georgia author Roy Blount Jr. told The New York Times that "Old country music had an honest catch in its voice, and so did Hemphill, writing about baseball or whiskery or his old man or himself ... He could tell what it was like for people who are just scraping by."
Paul James Hemphill was born in Birmingham, Alabama, though he lived and worked for much of his life in Atlanta. His literary legacy was shared by Georgia and Alabama, and mourners at his funeral were nearly equally divided between the two states. He was the son of a long-haul trucker, a man he knew as a racist, and about whom Hemphill wrote of in a tough memoir of their relationship, "Leaving Birmingham: Notes of a Native Son" (1993). He loved baseball and tried out for a minor league team, but was cut from the roster. After he got an undergraduate degree at Auburn University, he began writing about sports for newspapers in Birmingham, Tampa and Augusta before being hired in 1964 by the now-defunct Atlanta Times. He soon was hired by the Atlanta Journal and soon became a popular columnist.
In his first book, "The Nashville Sound" (1970), he wrote what is still acknowledged to be one of the best books about country music. It sold well and allowed Hemphill to become a full-time writer. His second book, "The Good Old Boys" (1974), of which The New York Times said that the author "wrote about minor-league ballplayers, hell-raisers and twangy country singers," also sold well. In "The Heart of the Game" (1996) and the novel "Long Ago" (1979), he wrote with clear-eyed affection about minor league baseball players and teams. The latter book was made into an HBO movie in 1987. Other books included novels "The Sixkiller Chronicles" (1985), "Nobody's Hero" (2002) and "King of the Road" (1989) as well as Wheels" (1997), a book about NASCAR, "Me and the Boy" (1992) and "Lost in the Lights," a 2003 collection of his sports writing.
His next-to-last book was "Lovesick Blues" in 2005, a poignant, vividfly drawn biography of one of country music's greatest performers, the legendary Hank Williams. Critics called it "definitive" and "a biography gritty and strong and real;" it was selected for the Center for the Book's 2010 list of "25 Books All Georgians Should Read." His final book, completed shortly before his death, was a volume about Auburn University's football history, "A Tiger Walk Through History." Hemphill also collaborated in writing two other books, "Climbing Jacob's Ladder" and "Mayor," an autobiography of the late Atlanta Mayor Ivan Allen. His essays also appeared in a number of newspapers and magazines including "Life," "Reader's Digest" and "Sport." The Georgia Center for the Book placed Hemphill's "Leaving Birmingham" on its 2005 list of "25 Books All Georgians Should Read," and he appeared several times at the Center's lecture programs throughout the first decade of the 21st century.