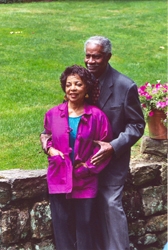 Ossie Davis
Georgia Connections
Notes of Interest
Ossie Davis was a distinguished African American playwright, author, poet, actor and director in films and television who was also noted as an outspoken activist in behalf of racial causes with his long-time wife, Ruby Dee. His best-known play, "Purlie Victorious," was successfully staged in 1961 was later turned into a popular musical. In addition to his plays, he wrote foure books and was one of the notable African American directors of his generation, appearing later in a number of Spike Lee films. He died in Miami Beach on February 4, 2005.
Ossie Davis was born December 18, 1917, in Cogdell, Georgia. The eldest of five children, he he was born Raiford Chatman Davis and said later he acquired the name Ossie after a county clerk misheard his mother pronounce his initials, "R.C." After graduating from high school in Waycross, he briefly attended Howard University but dropped out in 1939 at the end of his junior year to join a theater group. He was inducted into the U.S. Army in 1942, and after his discharge in 1945 he re-joined the theater troupe, appearing in the title role in his play "Jeb." His co-star was the young actress Ruby Dee, whom he would marry in 1948. He took courses in playwriting at Columbia University in 1949 and soon began appearing on Broadway and in films in small roles.
"Purlie Victorious" (1961) was an accomplished comedy about a Southern black minister who tries to regain control over a black church seized by a mean-spirited white landowner. It was made into a 1963 movie, "Gone Are the Days," and in 1970 became a Broadway musical, "Purlie!." Another of his plays, "Paul Robeson: All-American" is frequently staged for young audiences. He appeared in many films including "The Joe Louis Story" (1953), "The Hill" (1965), "The Scalphunters" (1968), "Gladiator" (1992), "Malcolm X" (1992), "Grumpy Old Men" (1993) and "Dr. Doolittle" (1998). He also worked closely with director Spike Lee and was featured in several of his films including "The Right Thing" and "Jungle Fever." With his wife, he received a Kennedy Center Honor in 2004 and shared a Grammy Award in 2007 for Best Spoken Word Album (tied with another Georgia native, former President Jimmy Carter). Davis and his wife also were prominent civil rights activists throughout their lives and helped organize the 1963 March on Washington; they were close friends with Dr. Martin Luther King, Jr., Malcolm X and Jesse Jackson.
Davis' books included "Escape to Freedom: The Story of Young Frederick Douglass" (1977); "Langston" (1982); "Just Like Martin" (1992); and "With Ossie and Ruby: In This Life Together" (1998).