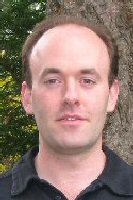 Nathaniel Lachenmeyer
Georgia Connections
Notes of Interest
Nathaniel Lachenmeyer is an award-winning writer of books for children and adults, several of which reflect the author's long interest in mental health issues. His books have been translated into six languages. In 2010, his book "The Origami Master" was chosen for inclusion on the Georgia Center for the Book's inaugural list of "25 Books All Young Georgians Should Read."
He was born in 1969 in Pelham, NY, and now lives in Marietta. He says, "I have always wanted to write books. I wrote my first book when I was eight: "'Krektonic,' an epic story about a gigantic fire-breathing monster that nearly destroys the world. My grandmother recorded me reading it aloud. I still have the tape."
His first book, for adults, appeared in 2001: "The Outsider: A Journey Into My Father's Struggle with Madness," a compassionate, candid and highly personal examination of his late father's suffering with schizophrenia and eventual homelessness and its impact on his son. The book received the Kenneth Johnson Memorial Research Library Award and the Bell of Hope Award. It was also featured on NPR's "Fresh Air" and is used in psychology classes around the country. He has lectured on mental health and homeless issues at universities, hospitals and mental health centers in the United States, Canada, Sweden and Australia. His second adult book, "13: The Story of the World's Most Popular Superstition," was published in 2004.
His first book for young readers was a picture book "Broken Beaks" which appeared in 2005 and teaches children to empathize with the mentally ill they encounter. It was followed by "The Decoy" (2007), "Searching for Sasquatch" (2007) and "The Origami Master" in 2008. The latter book -- handsomely illustrated by Aki Sogabe -- told the story of an origami master named Shima who lives alone in the mountains of Japan and who is befriended by a bird who teaches him lessons not only about origami but more importantly about lasting friendship. Critics praised it and said the book "could be mistaken for a long-forgotten gem of ancient folklore." The book was a Junior Literary Guild Selection, a Children's Indie Next Pick and a Book Links Lasting Connection. The author has several more children's books due shortly.
Further Reading