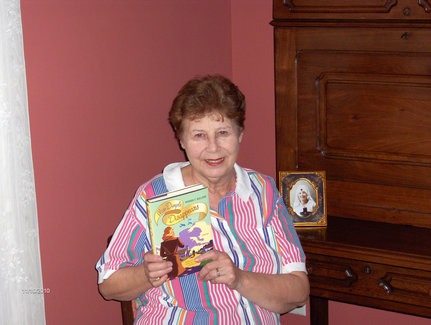 Mignon Ballard
Georgia Connections
City of Calhoun, Gordon County
Notes of Interest
Mignon Ballard is a former teacher and journalist and the popular, prize-winning author of 17 books, many of them mysteries written mostly for adult readers. A native of Georgia and University of Georgia graduate, she has lived for nearly 40 years in South Carolina.
Mignon Ballard was born in 1934 in Calhoun in Northeast Georgia. She was graduated from Calhoun High School and the University of Georgia in 1956 with a degree in journalism. She was briefly a staff wrier for the Atlanta Constitution and edited GAFFA, a state publication for the Future Farmers of America. She was an elementary school teacher for two years.
"I started writing when I was about eight and stuck with it because I can't do anything else. My piano teacher once called my mother to tell her she was wasting her money," she has written. I can't imagine not writing."
Her first published book, "Aunt Matilda's Ghost," her only book for young readers, was published in 1978 and received the Excellence in Writing Award from Winthrop College in South Carolina. She has written seven books in the Augusta Goodnight Mystery Series, two in the new Miss Dimple Series and has seven stand-alone (non-series) books. The latter category includes "Raven Rock" (1986), "Cry at Dusk" (1987), "Deadly Promise" (1989), "The Widow's Woods" (1991), "Final Curtain" (1992) and "Minerva Cries Murder" (1993). The Augusta Goodnight series featuring a guardian angel includes "angel at Troublesome Creek" (1999), "An Angel to Die For" (2000), "Shadow of an Angel" (2002), "The Angel Whispered Danger" (2003), "Too Late for angels" (2005), "The Angel and the Jabberwocky Murders" (2006) and "Hark! the Herald Angel Screamed" (2009). The first Miss Dimple book, set in World War II, is "Miss Dimple Disappears" (2010) with a second due in 2011. She also published a Christmas fantasy, "The Christmas Cottage," in 2007.