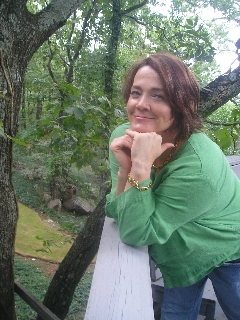 Melanie Sumner
Georgia Connections
Notes of Interest
Melanie Sumner is the prize-winning author of two books of fiction and has been published in a large number of journals and magazines. A winner of the prestigious Whiting Award, she is assistant professor of English at Kennesaw State University. She was one of the honored writers at the 2009 Georgia Literary Festival in Rome.
Melanie Sumner was born December 30, 1963, in Middletown, Ohio. moved to Rome in 1970 and was graduated from the Darlington School in 1982. She received a BA in religious studies from the University of North Carolina-Chapel Hill (where she studied with the late author Max Steele) in 1986 and an MFA in creative writing from Boston University in 1987. From 1988-90 she was a Peace Corps volunteer in Senegal, West Africa, and she also has lived in Alaska, New Mexico and Provincetown. She has taught at Cape Fear Community College in Wilmington, NC (1990-93), UNC-Chapel Hill (1995-96, writer-in-residence), University of New Mexico (1998-2001) and Shorter College (2002-08).
Her first book, "Polite Society," a collection of West African short stories, was published in 1995 and won for her a Whiting Award, a regional award from Granta and the Maria Thomas Award for the best book written by a Peace Corps volunteer. Her second book, the coming-of-age novel "The School of Beauty and Charm," appeared in 2004. She was named Artist of the Year by the Rome Area Arts Council that same year. Her third book, "The Ghost of Milagro Creek," was published in the summer of 2010. It is set in Taos, New Mexico, where she moved in the year 2000 with her husband and two-year-old child. Soon after, her husband was diagnosed with Lou Gehrig's Disease and died two years later. From her grief and sadness grew the plan for novel, which centers on star-crossed lovers in a mixed community of Native Americans in Taos. The novel has been well reviewed and received high praise from Pulitzer Prize-winning author Robert Olen Butler, who called it "A splendid novel, rich in character and landscape, daring in form and voice." She has had fiction and nonfiction published in many anthologies and journals including "New Stories from the South: The Year's Best" (in 1996, 2000 and 2004); "After O'Connor: Stories from Contemporary Georgia" (2003); The New Yorker; Atlanta magazine; Five Points; Harper's; Ladies Home Journal; and Kennesaw Review.
Of her writing, she says, "I've always wanted to be a writer ... I made my first attempts at book-writing whern I was six, when I wrote 'books' about an orphan girl as well as some pieces about Bugs Bunny and bound them in painted pieces of cardboard ... At Darlington, I turned my required weekly 500-word essay into my first attempts at creative noinfiction. One of these essays, a sardonic take on my Southern Baptist youth group called, "Why I Love Jesus," granted me admission to UNC, and prompted the admissions department to require essays of all applicants. I think this piece is still being published in a little book on how to write college admission essays called "Fifty That Worked.' ... I've traveled quite a bit, and I've done this in part to become the writer I want to be. Living in another culture fosters an intense awareness that I find essential to the creative process."