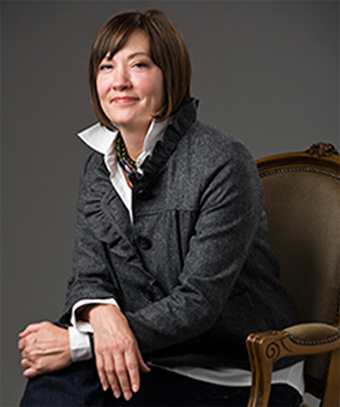 Lynn Cullen
Georgia Connections
Notes of Interest
Lynn Cullen is the acclaimed author of more than 15 books for young readers. Now making her home in Atlanta, she also has written a well-reviewed new novel for adults, "The Creation of Eve." In 2010, her book for young readers "I am Rembrandt's Daughter" was chosen for inclusion on the Georgia Center for the Book's list of "25 Books All Young Georgians Should Read."
Lynn Cullen was born in 1955 in Fort Wayne, Indiana and grew up there, receiving a BA in Education from Indiana University. She writes that, "I knew I wanted to be a writer from a very young age. I can still remember the first story I wrote, at age five, something about a bear that ate so much honey that he had to roll home in a barrel. I thought it was brilliant, although even then I had a niggling doubt about how that barrel came to be on top of a hill." She married and moved to Atlanta in her 20s and spent several years raising her family. As her children grew up, she volunteered at the school library and renewed her acuaintance with children's books. She took a writing class at Georgia State University studying under Dr. Thomas McHaney and soon after began publishing a variety of books for young readers.
"Meeting the Make-out King" appeared in 1994, followed by "Ready, Set - Regina" (1996), "Regina Calhoun Eats Dog Food" (1997), "The Three Lives of Harris Harper" (1998), "The Mightiest Heart" (her first picture book, 1998), "Stink Bomb" (1999), "Lilah's Gift" in 2000 and The Backyard Ghost" in 2000. Her books for young readers also include "Godiva" (2001), "Diary of Nelly Vandorn" (2002), "From Corey Gordon's Extremely Private Diary" (2002), "Romulus and Remus" (2002), "Nelly in the Wilderness" (2002), "Little Scraggly Hair" (2003), "I Am Rembrandt's Daughter" in 2007 and "Moi and Marie Antoinette" in 2008."
Her first novel for adults, "The Creation of Eve," appeared to considerable acclaim in 2010. "I found this novel about the quest for fulfillment in art and love enormously satisfying," wrote author Sara Guen, while another writer, Stephanie Cowell, called it a "marvelous, rich and compelling novel." The novel is based on a real-life figure who was a student of Michelangelo, Sofonisba Anguissola, the renowned but little known female artist of the Renaissance.The story's principal themes, she has written, are "that the spoken word can ruin a reputation, that just because history is written, that does not necessarily make it the truth, and that we can never truly understand the workings of another person's heart."
Further Reading