Ludlow Porch (Bobby C. Hanson)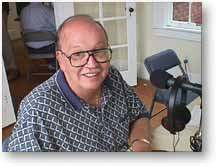 Ludlow Porch (Bobby C. Hanson)
Georgia Connections
Notes of Interest
Ludlow Porch was a popular Atlanta-born Southern radio personality for three decades, was an inductee into the Georgia Radio Hall of Fame, and the author of seven books of humor.
Born Bobby Crawford Hanson in Atlanta in 1934, he grew up and was educated in the city. He joined the Marine corps and saw duty in Korea in the 1950s. He received a degree from John Marshall Law School in Atlanta and became the successful operator of an insurance agency in the 1960s. In 1971, his stepbrother -- the late newspaper columnist and author Lewis Grizzard -- recommended him to the editors of Sports Illustrated magazine, who were planning an article on trivia experts around the country. The article got the attention of several radio stations in Atlanta, and Hanson -- now Ludlow Porch to his new audiences -- accepted a job at WRNG. A decade later he joined the staff at WSB Radio where his program became not only popular but was syndicated to stations in eight Southeastern states.
His folksy, laid-back conversational style and his off-beat humor proved a hit with listeners. He played practical jokes, invented news stories and engaged his audiences in two-way conversations that only enhanced his connections to fans (known genially as "wackos"). He was well-known for ending his programs the same way: "Whatever else you do today, you find somebody to be nice to." He helped introduce the talk format to WSB Radio, and was inducted into Georgia's Radio Hall of fame in 2007. Bill Sanders, long-time president of the Georgia Association of Broadcasters, called Porch "a true American humorist in the style of Will Rogers."
Ludlow Porch's cleverly titled books include "A View from the Porch" (1981), "The Cornbread chronicles" (1983), "There's Nothing Neat About Seeing Your Feet: The Life and Times of a Fat American" (1984), "Who Cares About Apathy?" (1987), "The Fat Guy's Cookbook" (1991), "We're All In This Alone" (1994) and "You're Sitting on Boomey: The Best of Ludlow Porch" (1997). He was working on another book at the time of his death. He moved to Dawsonville in 1994 and died there in February, 2011.