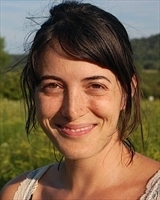 Jodi Lynn Anderson
Georgia Connections
Notes of Interest
Jodi Lynn Anderson grew up in a lake town in northern New Jersey where she used to spend way too much time walking in the woods with her cat, watching the clouds, and making things up. When she was 13, her family set off to live in far flung places around the world…and it taught her to think places are alive and to want to explore that in stories. She's deeply drawn to the magic in real life and is always trying to capture it with what she writes.
She began her career as a book editor at HarperCollins in NYC before starting to write full-time in various nooks and crannies around the world. These days she lives in Asheville, NC, with her husband, their two wonderful and goofy kiddos, and a persnickety dog who always takes things too far. She has a BA in British Literature from the University of Maryland and holds an MFA in Writing and Literature from Bennington College.
Jodi Lynn Anderson lived for a time in Georgia and is the author of several books for children and young adults. In 2010, her first book for young readers, "Peaches," was chosen for inclusion on the Georgia Center for the Book's inaugural list of "25 Books All Young Georgians Should Read."

"Peaches" is the delightful story of three teenaged girls from very different backgrounds thrown together one summer in a Georgia orchard, all in search of the right boy, the truest friend and the perfect peach. She says that when she lived in Georgia, she "ate peaches, peach pie and peach ice cream as often as possible." Her other books include "The Secret of Peaches" (2006), "Love and Peaches" (2008) and the May Bird Trilogy: "May Bird and the Ever After: Book One" (2005), "May Bird Among the Stars: Book Two" (2006) and "May Bird, Warrior Princess: Book Three" (2007).
Further Reading