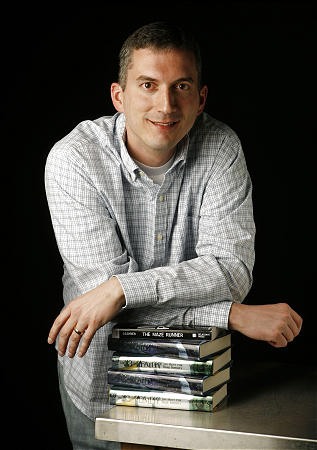 James Dashner
Georgia Connections
Notes of Interest
James Dashner is an award-winning author of books for young adult readers who is a native of Georgia now living in the Rocky Mountains of Utah. In 2010, his novel "The Maze Runner" was chosen for inclusion on the Georgia Center for the Book's list of "25 Books All Young Georgians Should Read."
James Dashner was born in 1972 in Austell and moved to Duluth when he was two years old. He was graduated from Duluth High School in 1991 and attended college in Brigham Young University in Utah where he met his wife and where he now lives. He initially worked in the field of finance before becoming a full-time writer. He has published books in three series beginning with a quartet of mid-grade reader novels: "The Jimmy Fincher Saga." The novels are "A Door in the Woods" (2003), "A Gift of Ice" (2004), "The Tower of Air" (2004) and "War of the Black Curtain" (2005). His "13th Reality" trilogy features "The Journal of Curious Letters" (2009), "The Hunt for Dark Infinity" (2010) and "The Blade of Shattered Hope" (2010).
His latest series, "The Maze Runner" trilogy, has been featured nationally by his publisher, Random House, which produced an award-winning video to promote the book. "The Maze Runner," the first in the series, was published in 2009 to critical acclaim. It was a Barnes and Noble Discovery Pick, a Junior Literary Guild selection, and made many year-end best-of lists including those compiled by Kirkus, B&N and Indiebound. The second in the series, "The Scorch Trials," appeared in late 2010.
Further Reading