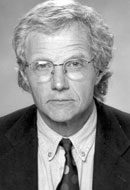 James C. Cobb
Georgia Connections
Hart County, Long-time member UGA history faculty
Notes of Interest
James C. Cobb is the leading historian of his native state and one of the premier historians of the American South. A former president of the Southern Historical Association, his writing has focused on the interactions between the economy, the history and the culture of his native region. His presentations to audiences of scholars and laymen alike have been warmly received for their insight, perceptiveness and humor, and he is a popular speaker and contributor to newspapers and magazines.
Cobb was born April 13, 1947 in rural Hart County and was educated in the public schools there. He received his A.B., M.A. and Ph.D. (1975) from the University of Georgia and taught at the University of Tennessee and the University of Mississippi before joining the UGA faculty. He currently is the B. Phinizy Spalding Distinguished Professor in the History of the American South and teaches acclaimed courses in southern culture and history.
His books include "Industrialization and Southern Society, 1877-1980" (1982); "The Selling of the South: The Southern Crusade for Industrial Development, 1936-1980" (1984); The Most Southern Place on Earth: The Mississippi Delta and the Roots of Regional Identity" (1992); "Georgia Odyssey" (1997 - new edition, updated, 1998); "Redefining Southern Culture" (1999); "Away Down South: A History of Southern Identity" (2005); "The Brown Decision: Jim Crow and Southern Identity" (2005), and "The South and America Since World War II" (2010). Of that book, Georgia author Terry Kay wrote, "No historian of my reading has succeeded in reporting the telltale events and moods of the post-WWII American South as well as Dr. James Cobb." He has edited or co-edited a number of books including "The New Deal and the South," "Perspectives on the American South," "The Mississippi Delta and the World: The Memoirs of David L. Cohn;" and "Globalization and the American South."
He has received a number of awards including the Mary Lawton Hodges Prize in Southern Studies for "Away Down South." Critics hailed that book as "comprehensive, thoughtful and utterly fascinating," and one critic (Edwin Yoder Jr.) suggested that with the death of C. Vann Woodward, "Cobb is perhaps our best historical interpreter of the South."