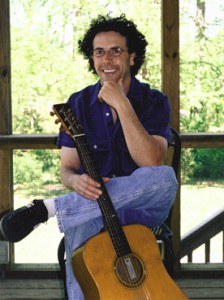 Eric Litwin
Georgia Connections
Notes of Interest
Eric Litwin is an Atlanta award-winning musician and teacher and author of a best-selling picture book, "Pete the Cat: I Love My White Shoes," illustrated by another Atlantan, James Dean. In 2010, that book was chosen for inclusion on the Georgia Center for the Book's list of "25 Books All Young Georgians Should Read."
Eric Litwin was born in 1966 in New York City and has lived in Atlanta since 1993. He holds two master's degrees in education from George Washington University and a degree in public administration from the Nelson Rockefeller School of Public Affairs and Policy, part of the University at Albany, NY. A former classroom teacher turned musician and author, he describes himself this way" "Mr. Eric is a guitar-strumming, book-writing, harmonica-blowing, banjo-picking, song-singing, five-time national award-winning, folksy, fun type guy."
He joined with artist James Dean in 2008 to self-publish "Pete the Cat: I Love White Shoes," and the picture book became a local favorite. It soared to The New York Times' bestseller list in 2010 when the book was picked up by a New York publisher for national distribution. The simple, upbeat story casts Pete as a feline whose shoes change color every time he steps into something, from a mud puddle to a stack of strawberries, but who never loses his cool. "Pete never wore any shoes before Eric came in," says collaborator Dean. "It was just a great idea, and it really worked."
Litwin has been featured in several audio CD releases, among them "Smile at Your Neighbor" in 2004 and "Mischievous Moonlight" in 2006. He has won a number of honors including a Parents Choice Award, an iParenting Media Award and the Children's Music Web Award. He has performed his music at Lincoln Center, Woodruff Arts Center, Spivey Hall, Callaway Gardens and in hundreds of schools and libraries. He is the co-creator of "The Learning Groove," an early music education company that offers learning experiences as well as parent and child music classes.
Further Reading