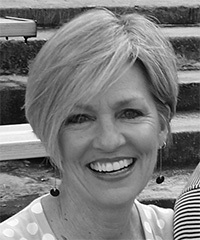 Elizabeth 'Liz' Conrad
Georgia Connections
Notes of Interest
Liz Conrad was a talented artist/illustrator whose work included graphic designs for many clients and more than 20 board books for young readers. She was honored posthumously in 2010 when her board book "Little Duck" was chosen for inclusion on the Georgia Center for the Book's inaugural list of "25 Books All Young Georgians Should Read."
She was born in 1954 in Cleveland. She wrote of herself, "Liz has been playing with paint, pencils, paper and scissors since she was old enough not to run with the scissors. From John Gnagy Learn-to-Draw sets at the age of 6 to creating bulletin boards for her mother's classroom as a teen, art has long been her avocation as well as vocation."
She received a BFA in graphic design from Miami University in Ohio in 1976. she worked with a series of companies on graphic design and editorial illustrations before coming to the world of children's book publishing. She referred to her style affectionately as "cut-paper-mixed-media," and her work was hailed for its "bold and vivid expressions of color, texture and design." She illustrated more than 20 board and novelty books for publishers including Grosset & Dunlap, Klutz, Simon & Schuster, Price Stern Sloan, Sterling and Zonderkidz publishers. She was a member of the Society of Children's Book Writers and Illustrators and Picture Book Artists Association. She died of cancer in 2009, survived by her husband and two daughters.
Her illustrated books for young readers include "Morning Mr. Ted" (2001), "Sip and Surp: A Juice Box Book" (2002), "Christmas Surprises!" (2002), "Apples Away!" (2003), "Apples Add Up" (2003), "Oh Chanukah" (2003), "The Turkey Ball" (2005), "Hey Diddle Diddle" (2006), "The Snow Ball" (2007), "The Witches' Ball" (2007), "Skeleton Shake" (2008), "The Beach Ball" (2008), "The Bunny Ball" (2008), "Little Chick" (2009), "Little Duck" (2009), "Little Lamb" (2009), "Little Bunny" (2009), "Santa's Surprise" (2009) and "Baby Hustle" (2010).