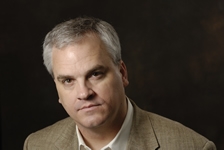 Douglas A. Blackmon
Georgia Connections
Notes of Interest
Douglas A. Blackmon is a writer for the Wall Street Journal who won the 2009 Pulitzer Prize for General Non-fiction for his book, "Slavery By Another Name: The Re-enslavement of Black Americans from the Civil War to World War II." That book has been chosen by the Georgia Center for the Book for inclusion on its 2010 list of "25 Books All Georgians Should Read."
Over the last 25 years, Blackmon has written extensively about distinctly American issues of race, exploring topics from the integration of Mississippi schools during his childhood in a Mississippi Delta farm town to the struggle of a contemporary society to come to terms with its troubled past. He was the Journal's longtime Atlanta bureau chief, overseeing news coverage in 11 southern states, and in late 2009, he was named the newspaper's Senior National Correspondent, and directs the coverage of subjects ranging from race and politics to business and culture. Born in Leland, Mississippi, he was graduated from high school in Monticello, Arkansas and received his undergraduate degree from Hendrix College in Arkansas.He joined the Journal staff in 1995 after working for newspapers in Little Rock, Arkansas, and Atlanta.
"Slavery by Another Name" grew out of his 2001 Journal article on slave labor. It revealed for the first time how the use of forced labor by dozens of U.S. corporations and commercial interests in coal mines, timber camps, factories and farms in cities across the South, beginning after the end of the Civil War and continuing to the start of World War II. The book was a national bestseller and wqas accalimed as a "relentless and fascinating" work by The New York Times. It received a 2009 American Book Award and a Freedom Fund Award from the NAACP.
Blackmon is co-executive producer of a documentary film based on "Slavery By Another Name," scheduled for PBS broadcast in 2011. He has elctured recently at Yale University. the Harvard School of Law and the Clinton and Lincoln Presidential Libraries.
Further Reading