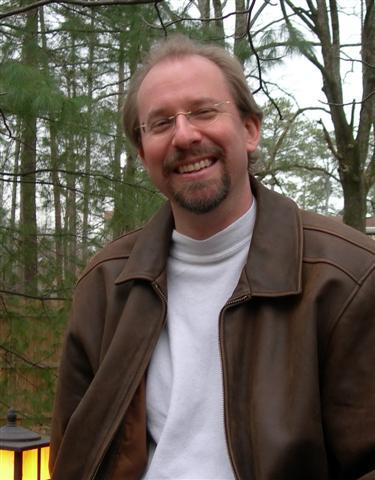 Danny Schnitzlein
Georgia Connections
Notes of Interest
Danny Schnitzlein is the author of three popular books for young readers, two illustrated by Matt Faulkner and one by Bill Mayer. He makes his home in Marietta. In 2010, his book "The Monster Who Did My Math" was chosen for inclusion on the Georgia Center for the Book's inaugural list of "25 Books All Young Georgians Should Read."

Danny Schnitzlein was born in 1971 in Birmingham, Alabama, and moved with his family to Tampa when he was in the third grade. It was there he got the writing bug, he says. "As a boy, I was fascinated with dinosaurs. They were my proof that fantastic things could exist, and that meant anything was possible. I loved Dr. Seuss' books, Beverly Cleary, and Stoo Hample's 'The Silly Book.' As I got older, I discovered Tolkien, Bradbury, H.G. Wells and Jules Verne. My parents made sure we had lots of books and took us to the library frequently. My mother read poetry to us before bed."

He received a creative writing medal from the English department at his Tampa high school (where he was also the marching band's drum major) and went on to study creative writing at Eckerd College in St. Petersburg. He was graduated from the University of Florida with a BS in television production, and he has worked in a variety of fields including television writing and producing, video editing, and as an acrylic painting instructor.

His first book, "The Monster Who Ate My Peas," was published in 2001. a tale told in rhyme with grotesque illustrations by Matt Faulkner and inspired by the author's childhood dislike of peas. It received state awards in Indiana and Virginia and represented the state of Georgia at the 2004 National Book Festival. "The Monster Who Did My Math," brilliantly illustrated by the Georgia artist Bill Mayer, was published in 2007. Narrated in light, humorous verse with Mayer's drawings, the story centers on a mathophobic young boy who makes a deal with a monster to do his homework only to discover there's more to the bargain than he imagined. The book was listed as one of the best books of the year by Parent and Child magazine and Atlanta Parent magazine, and it was chosen by the Georgia Department of Education to spearhead its "Read More" initiative. His latest book, "Trick or Treat on Monster Street" with illustrations by Faulkner, was published in 2008.