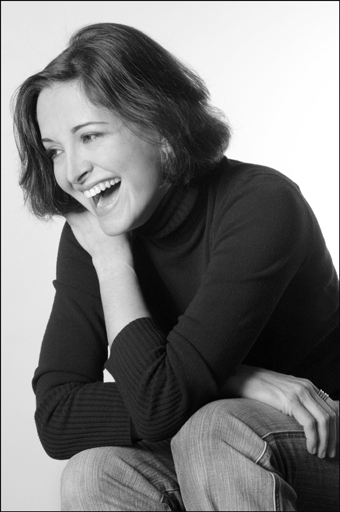 Carmen Agra Deedy
Georgia Connections
Decatur, DeKalb County, Born in Cuba
Notes of Interest
Carmen Agra Deedy, who moved to Decatur with her family from Havana during the Cuban Revolution, has become one of America's most popular storytellers and writers for young readers. She travels around the world with her books and stories and is one of the most in-demand authors for public appearances with audiences young and old. She serves as an unofficial but passionate and witty ambassador for Spanish culture. Her work now appears in English and Spanish editions simultaneously to the delight of tens of thousands of readers. And in 2010, her book "14 Cows for America" was chosen for inclusion on the Georgia Center for the Book's list of "25 Books All Young Georgians Should Read."
Carmen Agra Deedy was born in 1960 in Havana, Cuba. In the chaos of the Cuban Revbolution, she and her family emigrated to the United States and settled in Decatur, Georgia, where she grew up. She very early found pleasure in telling lively stories to others about her own experiences, many of them humorous, and many focused on her often embarrassing but always endearing mother. "My mother, my mother -- where would my stories be without her?" she has said of the rich vein of humor she has mined from her family. At her appearances, she speaks with a mix of languages and with great animation, drawing laughter throughout her talks.
Deedy's first book was "Agatha's Feather Bed: Not Just Another Wild Goose Story" (1993) which has been reissued in a Spanish edition. Her other books include "TreeMan" (1993); "The Library Dragon" (1994), included on the Center for the Book's 2002 list of "25 Books All Georgians Should Read;" "The Last Dance" (1995); "The Secret of old Zeb" (1997); "Yellow Star: The Legend of King Christian X of Denmark" (2000); and "Martina, the Beautiful Cockroach" (2007), issued in simultaneous English and Spanish editions. Deedy adapted "The Library Dragon" for the stage, and the work was has been performed in English and Spanish in metro Atlanta. An audio CD, "Growing Up in Decatur," which came out in 1993, was named Best Audiobook-Storytelling by "Publishers Weekly." In late 2009, she published "14 Cows for America," with illustrations by fellow Cuban native Thomas Gonzalez. The critically acclaimed "breathtaking" book tells the moving story of a gift of 14 cows sent by the Maasi people from a remote corner of Kenya to grieving Americans in the wake of the 9/11 tragedy. It includes notes from Kimeli Naiyomah, the native Kenyan whose story of the tragedy when he returned home from New York after 9/11 inspired his villagers to the gift. In 2011 she released "The Cheshire Cheese Cat" with Illustrations by Barry Moser, a tongue-in-cheek Dickensian romp suitable for both adults and young readers.
Deedy has received a number of other awards including The Pura Belpre Medal for affirming Latino culture to audiences for "Martina," as well as the Christopher Award, the Bologna Ragazzi Award, the Jane Addams Peace Association Honor Book Award, the Parent's Choice Gold Award and a "Notable Book" honor from the International Reading Association. She has presented stories on National Public Radio's "Weekend All Things Considered" and at the Kennedy Center in Washington, DC; the Folger Shakespeare Library in Washington; the Disney Institute in Orlando; the National Book Festival in Washington; and the National Storytelling Festival in Jonesborough, TN.